Are all trunks for the cavalier 3rd gen the same? i have an 03 cavalier can i swap for a 98 trunk or anything without that ugly bezel?

Search, but since I'm a nice guy, yes all trunks for Cavaliers are the same from 95+, the only difference is the bezel on the 03+.
----------------------------
If you do a trunk swap, it will swap using the same bolts, etc. The only thing youy'll need are some 95-02 inner tails.

You can even use your outer 03 tails with the 95-02 lid, but if you need inners anyhow you may as well get outers to match the inners.
I dont like the 03-05 outers that much any how, they look to bubbalie....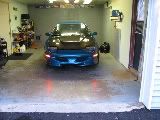 98 j-body sedan