Hi,

I just bought a WAI for my 96 Cavy, and I never touched my engine before. (We have to start somewhere...) I searched for an installation guide on the forums but didn't found anything.

I know it's only "bolt-on" but I really don't want to mess things up there, can someone point me to a good installation guide?

By the way its a Ractive intake, I heard somewhere that you need a "breather" for the valve cover, it's not included in that kit, is there anything I need to buy separatly?

the install for the intake should be fairly simple. Undo the factory air box (big plastic casing on right side of engine, containting air filter.) There should be clamps, snaps, screws, etc holding it on. With it removed, the throttle body should be uncovered. The new intake should clamp right on there, youll see how it fits just by the shape of the area it has to fit in. As for the crankcase breather, there's a hose that leaves the valve cover and goes to the factory intake. If the new intake didnt come with any hose, or a place to put it, youll need to buy a crankcase breather.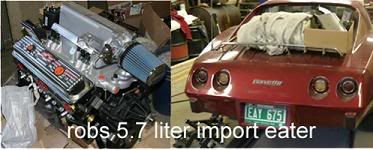 Thanks!

Does anyone have a clean picture of an installed WAI on a 2.2L like mine?

Ok, I removed the top of the black plastic housing, the tube, and the stock filter, and I see the tb. But the lower part of the black plastic housing seems to hold the clutch fluid reservoir...can it be relocated somewhere else?

Just zip tie it to the firewall somewhere.
4cyltuner.com
- Information Source For 4 Cylinder Tuners
Buy stuff from CarCustoms Ebay! Won't be disappointed!
Still need some help please...

I can figure I need to fix this with the bolt at the right but do I have to take any precautions? I mean, is there some kind of fluid that can leak from this big tube if I remove that bolt?
If I am looking at that correct is that a support? Also that is your engine coolant line, I wouldnt really mess with the bolt unless you want to maybe loose a little fluid but I mean you can ALWAYS put more coolant in your car.
*95 Z28 M6* *Free mods* *160 t-stat*New LT1 Crate motor 357*Edelbrock Headers*3" Flowmaster cat back* !CAT
Better yet, when you undo the one bolt hold the thermostat housing in place and just loosen the bolt enough to get the bracket in, just keep pressure on the housing should work
*95 Z28 M6* *Free mods* *160 t-stat*New LT1 Crate motor 357*Edelbrock Headers*3" Flowmaster cat back* !CAT